bid! bid! bid! in the charity auction of drawings and models by world renowned japanese architects to support toyo ito's HOME-FOR-ALL project.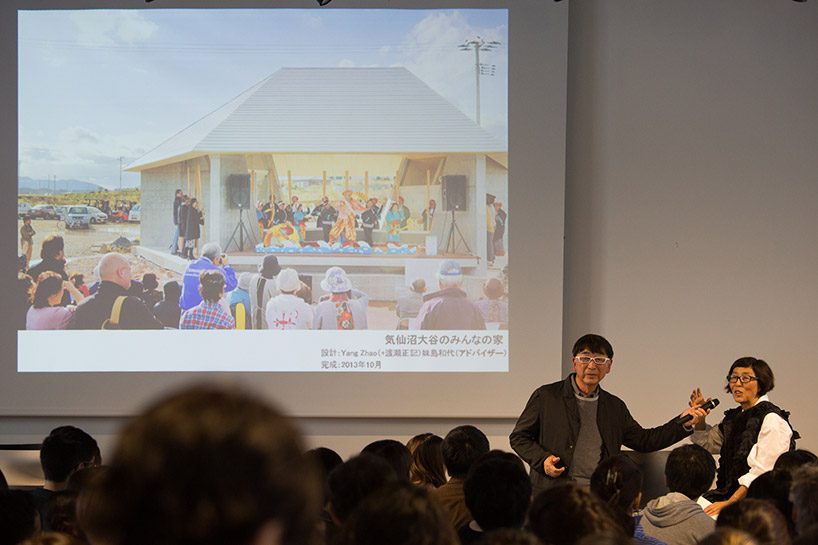 toyo ito and kazuyo sejima presented at the HOME-FOR-ALL conference
the auction includes original works donated by fumihiko maki, toyo ito, riken yamamoto, kazuyo sejima, ryue nishizawa, fujie kazuko, naoya hatakeyama, reiko sudo, katsuhiko hibino, asao tokolo, kohei nawa, asami kiyokawa, takeshi okada, kunihiko morinaga, junja ishigami, sou fujimoto, tai fujimori, atelier bow wow, manabu chiba, kumiko inui, klein dytham architecture, akihisa hirata, and maki onishi and the pieces were presented at the HOME-FOR-ALL conference held on the last day of DESIGNART on 28th october at the united nations university in tokyo.
the 'design for bigger issues' conference brought together architects and designers involved in supporting disaster struck areas in japan such as tohoku, kumamoto and western japan. the discussion involved how their activities effected themselves, what architects and designers can do to help after a natural disaster, and how to create spaces that bring people together.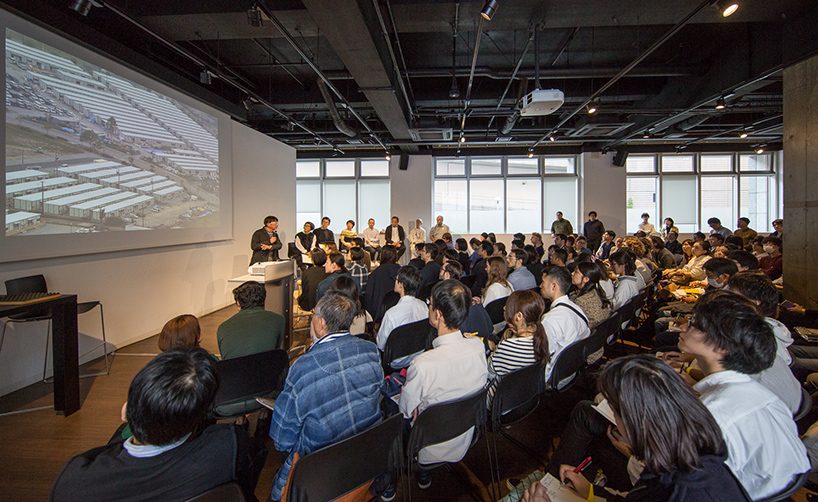 the HOME-FOR-ALL conference – guest speakers included toyo ito, kazuyo sejima, taiji fujimori, manabu chiba, atelier bow-wow, osamu tsukihashi, and klein dytham architecture

ryue nishizawa
the charity auction is a part of the DESIGNART tokyo and HOME-FOR-ALL conference and auction is intended to raise awareness and funds for the project. the international online auction is already live and will run until november 5th. it is organized by SBI auctions who are kindly waiving all fees. you can take part anywhere in the world!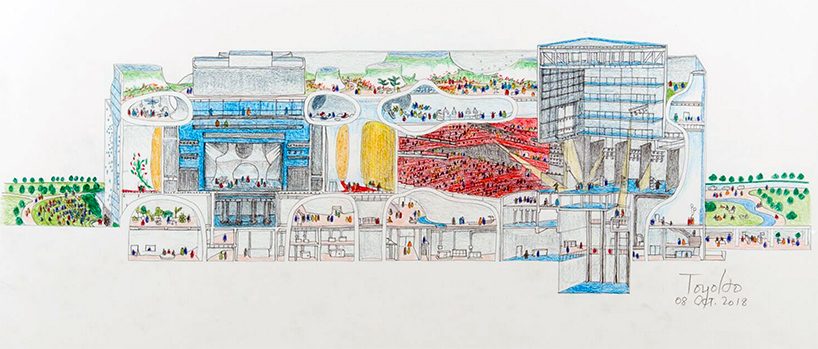 toyo ito
we hope you can bid on these wonderful, one of a kind works and help support HOME-FOR-ALL. please feel free to share this article with friends or collectors who maybe interested – and any social media that would like to cover the this.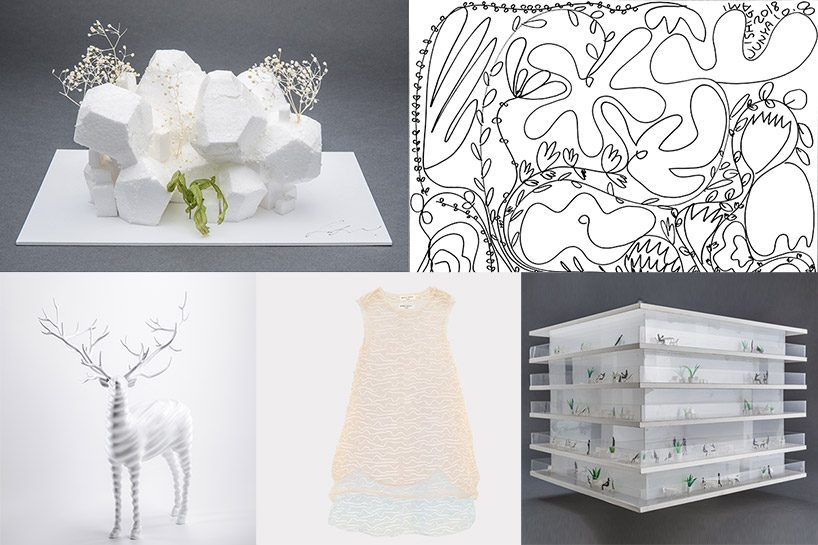 sou fujimoto, junya ishigami, kohei nawa, kazuyo sejima, kumiko inui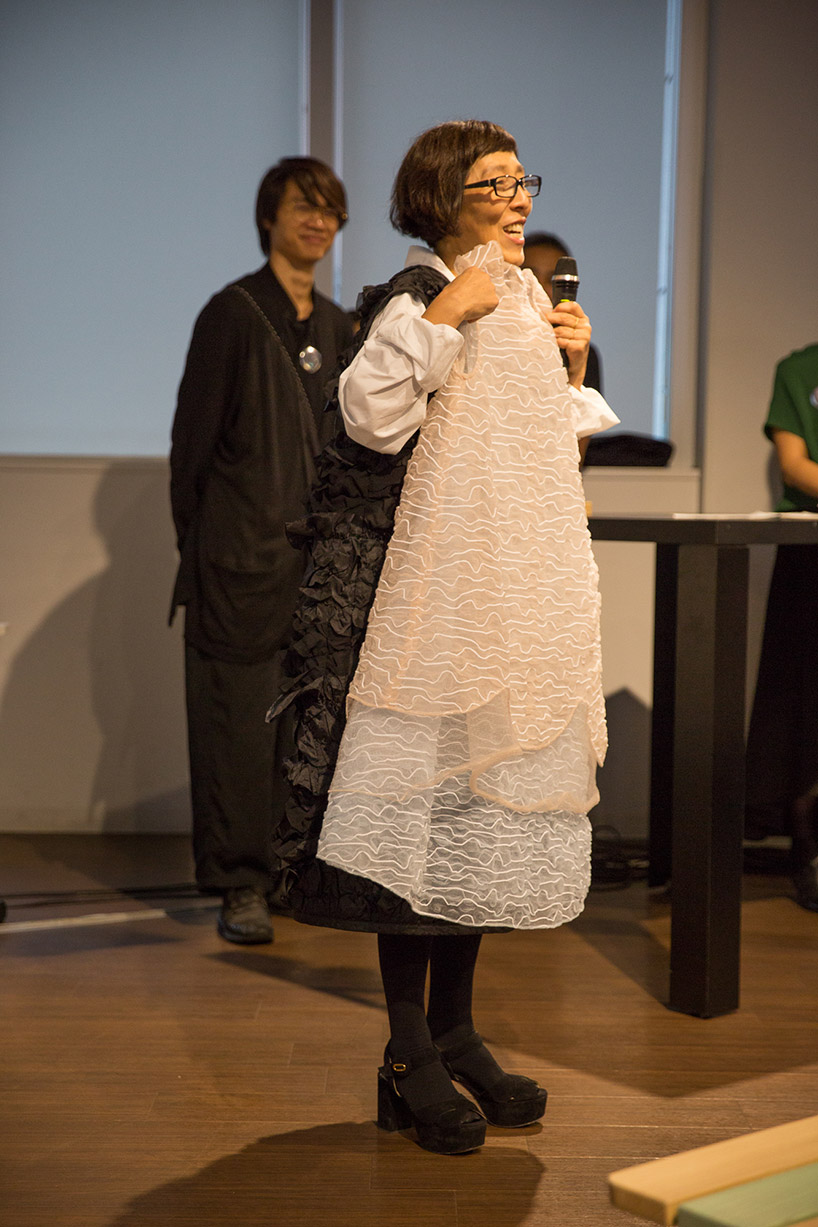 sonia rykiel X kazuyo sejima (HFA three-piece-set dress)
all the auction pieces can be viewed online HERE.
background:
the HOME-FOR-ALL community houses are built in the areas of temporary housing and coast areas destroyed by tsunami. the usage of the houses range from gathering spaces for people who live in temporary housing, places for communities to recover, play spaces for kids and bases to rebuild the agriculture and fishery industry. since the disaster, the operational burden of running these houses is getting increasingly onerous and the architects established a single umbrella HOME-FOR-ALL to support each project.
HOME-FOR-ALL is an official japanese NPO. the board chaired by toyo ito meets monthly and is comprised of: toyo ito, riken yamamoto, kazuyo sejima, junichi kano, yasuhiro yamashita, astrid klein and mark dytham.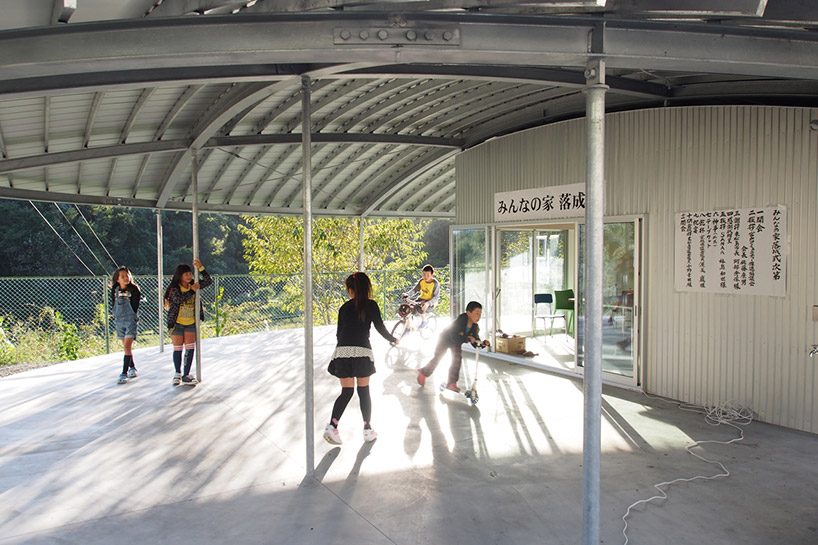 HOME-FOR-ALL in miyatojima by kazuyo sejima + ryue nishizawa / SANAA
miyatojima has a beautiful scenic landscape and natural topography with fine hills and sea. several small villages are located around the beaches of the island and in the great east japan earthquake in november 2011 they were badly damaged. many residents are now living in temporary housing areas, one of which is in the schoolyard of miyato elementary school, near the centre of the island. in the temporary housing area there was nowhere for residents to meet and informally gather together. therefore HOME-FOR-ALL decided to build a space for residents to be able to meet easily in the centre of the island; a big roof, with space for everyone underneath it. the design is a circular main framework made of steel, with a light rounded roof sitting on top. below the roof there is a semi-outdoor terrace and a living room. the living room can also be opened up to become one with the terrace. the living room can be used for tea ceremonies, for fishermen's feasts or for everyday children's play. the idea is for residents to drop in on their way to somewhere else and for HOME-FOR-ALL to feel like a welcoming living room.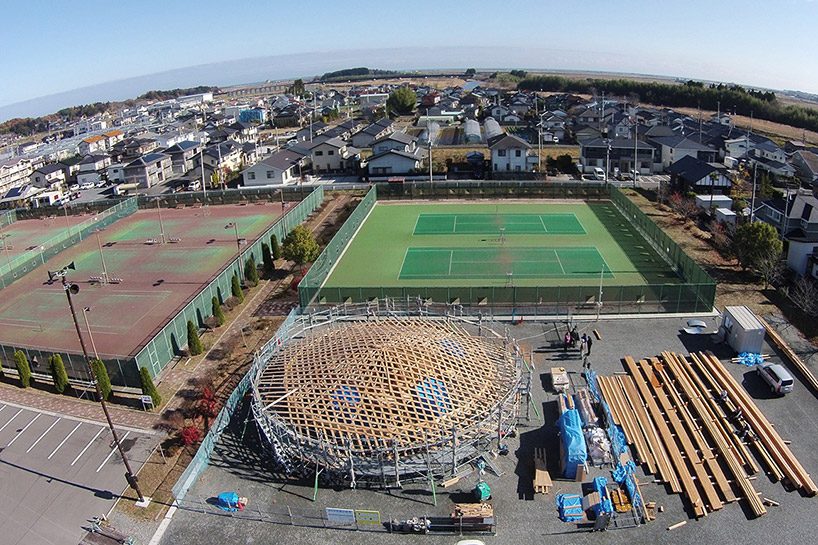 astrid klein and mark dytham, with toyo ito architects designed and co-funded soma city HOME-FOR-ALL
in soma city, fukushima prefecture, there was a desperate need for a space, free from dangerous background radiation levels, where young children could play. this building is an indoor play space for toddlers between the ages of 0-4. as the children cannot play outside, this building was designed to bring some of the outside, inside. the building should feel like you are playing in a forest with trees. the overall structure is conceived as a large straw sun hat held aloft by trees. the cross laminated timber columns help reduce the span of the timber roof making it lighter and have been designed to resemble trees – complete with their own wild life! the roof is made up of 9 layers of timber slats. each slat is continuous, the longest being 20m in length. the slats are laid over a formwork one layer at a time, with each successive layer rotated through 60 degrees.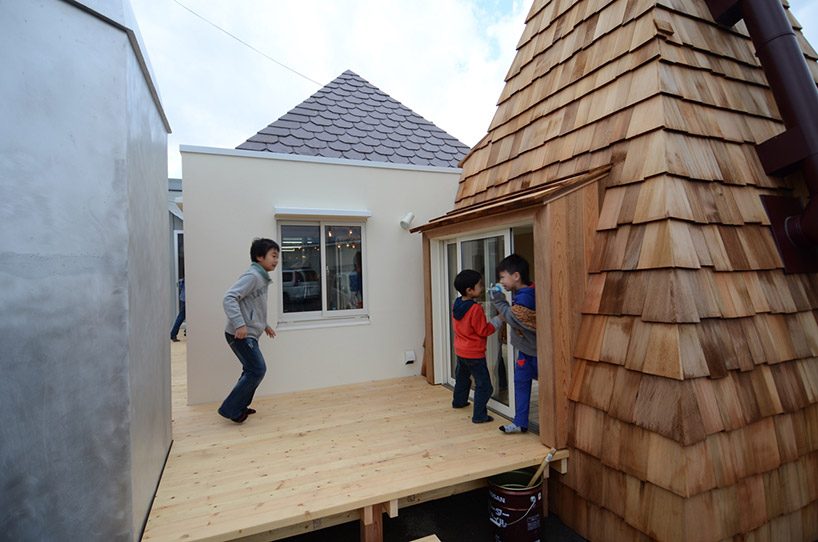 HOME-FOR-ALL in higashimatsushima by toyo ito & associates, Architects, maki onishi / o+h

this HOME-FOR-ALL for children is a small building in the temporary housing complex where roughly six hundred families live. the structure is cosy and fun and was designed as a place that could feel like home for the children, a place of warmth and fun amongst the temporary housing. the building was designed in summer 2012 by toyo ito. he visited the site, spoke to officials and deliberated hard on the design with input and cooperation from local residents. three distinct houses make up the complete structure, with a large table at the centre to bring people together as well as a wood burning stove. wheels can be attached, meaning the house can be moved to various locations. each house has a distinctive roof built with natural materials such as wood and slate and aluminium. the houses are distinct in the hopes that children will nickname them. reflecting the variety that can be found in a small town there lots of different angles and connections in this structure – spaces are broad and narrow, light and dark with many different edges and spaces.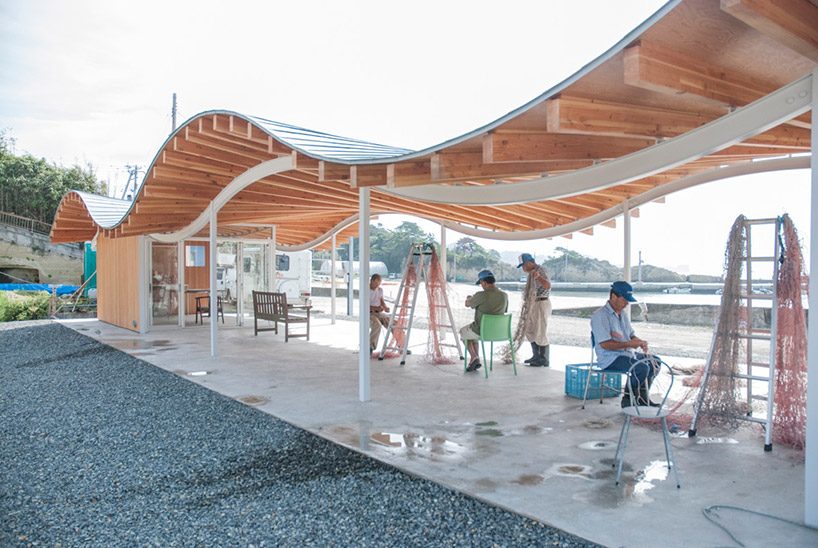 HOME-FOR-ALL  in tsukihama by kazuyo sejima + ryue nishizawa / SANAA
the miyatojima tsukihama area is a small village surrounded by intricate terrain. in the tsukihama there are beautiful sandy beaches with many inns for visitors coming to the area for sightseeing and to enjoy the local nature, or while working in fisheries harvesting nori and abalone. after the earthquake and subsequent tsunami the tsukihama beach resort in miyatokjima was reopened, however many of the inns were destroyed. it was therefore difficult to re-attract the visitors who had flocked to the area before the disaster and so the fishing industry became the focus for the area's rehabilitation. there was no space to build a main centre for the fishermen and a place for visitors to rest. therefore, this HOME-FOR-ALL was built as a starting point for the recovery of the tsukihama area. the architects proposed a light roof, full of movement that could be used for a variety of things: as a resting place for visitors, as a fisherman's workplace and and as a daily market-place. the workshop has a very open structure meaning that it is very easy for fishermen to get access with both cars and boats. by keeping the roof low, in harmony with the surrounding environment, the cold northernly winds in the winter will be less harsh and in the hot summer a cool breeze can filter through. the hope is that this HOME-FOR-ALL can act as a catalyst to boost this area, once again, as a must-visit destination.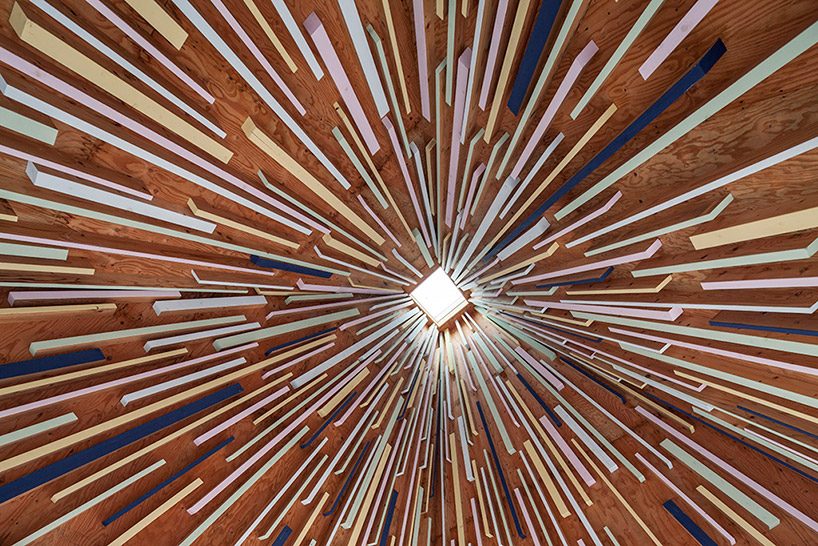 HOME-FOR-ALL in fukushima by ako nagao, keiko nogami, sakashi kunishima,  landscape design: yoshio ohta
in the 2011 earthquake not only the coastal area of fukushima prefecture was badly damaged, the city itself also suffered hugely from the ground motion. this HOME-FOR-ALL is located at the centre of the urban area where reconstruction is being planned. a garden with peaceful trees has been planted and the HOME-FOR-ALL structure creates a large shady area.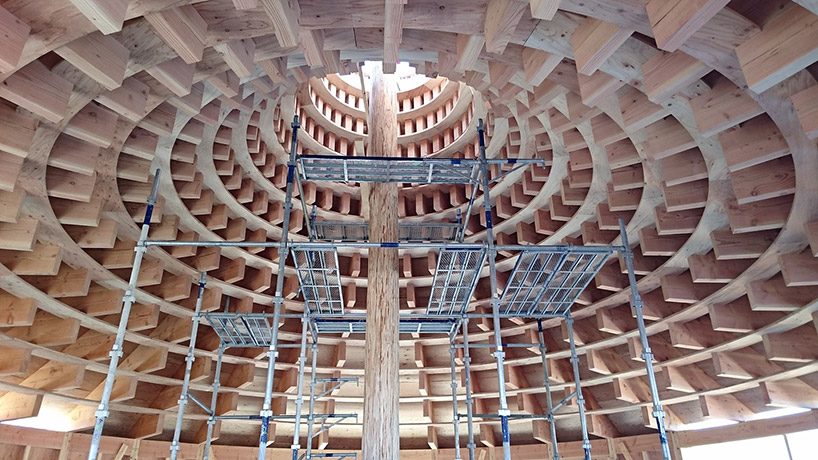 HOME-FOR-ALL in minamisouma by toyo ito
this HOME-FOR-ALL hut in minamisouma is a playground for children in the shape of a circus hut. on entering the space the rhythmic wooden structure is powerful. the wooden framework ascends towards the sky and suggests itself as a new symbol of strength, dynamism and calmness.
HOME-FOR-ALL are bases for those who lost their homes or jobs in the great east japan earthquake on march 11th 2011. they are spaces where people can get together and build a new community life. in the weeks following the earthquake a group of architects, lead by toyo ito, kazuyo sejima, and riken yamamoto established a volunteer organization working with younger architects to help make a difference and build home-for-all community houses in the disaster area. 15 community homes were built in the tohoku region. then after the kumamoto earthquake of 2016, working with the prefecture government and using the experience gained from tohoku, HOME-FOR-ALL built 70 more community homes. here you can see all of the tohoku houses.
The post HOME-FOR-ALL invitation to support toyo ito's project appeared first on Architecture Admirers.