bringing together data and architecture, london-based studio daewha kang design has created a two-part experimental work environment on the 12th floor of the shard to measure the impact of biophilic design on worker wellness and productivity. the project comprises two spaces designed according to the principles of biophilia, human beings' innate need to connect to nature, which make them seek qualities of light, view, material, and other factors common in the natural world.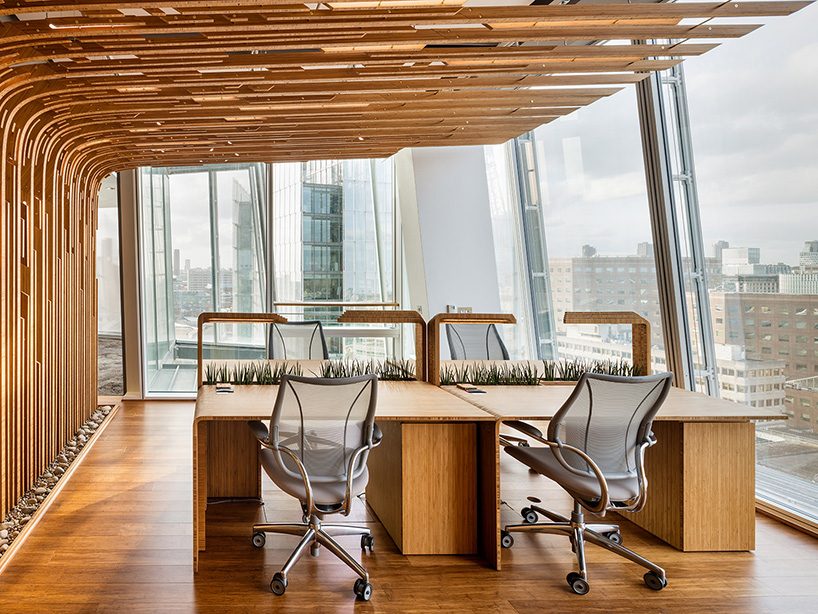 photos by tom donald for aldworth james & bond, kyungsub shin
the living lab opens up towards the shard's façade, providing long views and a strong connection to the sky
created in collaboration with dr. marcella ucci for the london headquarters of outsourcing and facilities management company mitie, the project includes the living lab, a fully immersive work environment, and two regeneration pods for short-term rest and meditation. in the living lab, daewha kang design has developed a series of intricate patterns using natural materials, including different shades and textures of bamboo on the floor, desks, task lights and privacy screens which wrap onto the ceiling. the space's lighting is linked to an astronomical clock, which makes it turn cool blue in the morning, brilliant white in the afternoon, and fiery orange by the end of the day.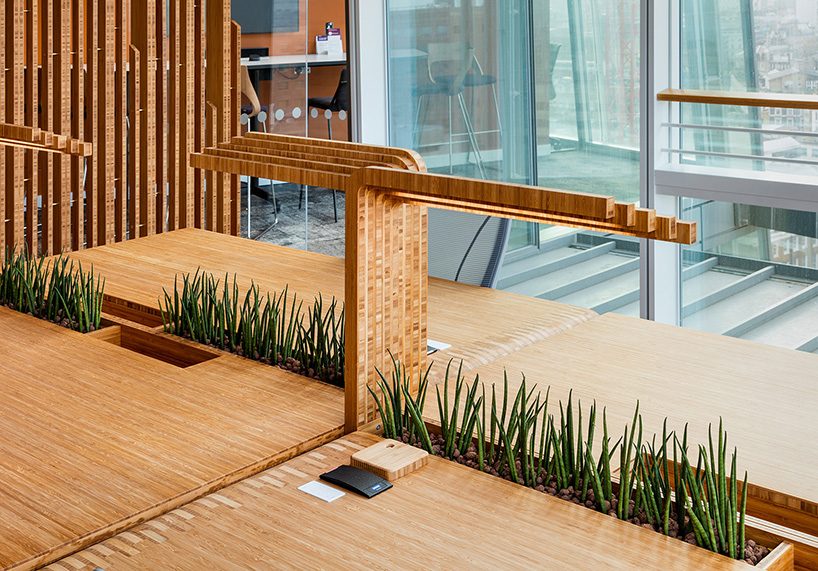 the warm bamboo palette creates a strong counterpoint to the glass and metal aesthetic of the rest of the building
the project is also developed as a pilot study to measure the impact on employees, who will work at these desks for four weeks at a time answering daily surveys about their comfort, satisfaction, and emotional response, and another four weeks in a control area on the same floor built without biophilic design, to compare their responses between the two spaces. the living lab's working desks incorporate sensors that detect air quality, light levels, temperature, humidity, and active labor time, while an access card reader identifies the users and allows them to activate the task lights and charging strips.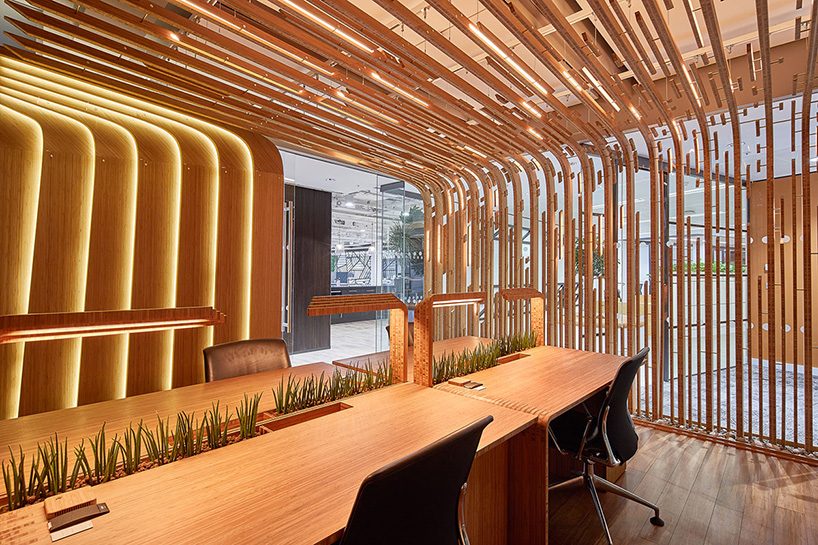 as direct access to living nature is shown to have a host of benefits, planters are integrated directly into the desks
the second part of the project includes the two regeneration pods, which are part of mitie's mental health and wellness initiative. similar to the living lab, daewha kang has designed the pods following the structural logic we see in nature, with continuous ribs and individual vanes that together create two shelter-like structures. soft seating within them offers enough space for a user to lie down and rest, or practice seating meditation. as in the living lab, technology plays a role in the pods as well, since employees can access them using their access cards and activate a sound and lightscape that has been designed for mindfulness and reflection.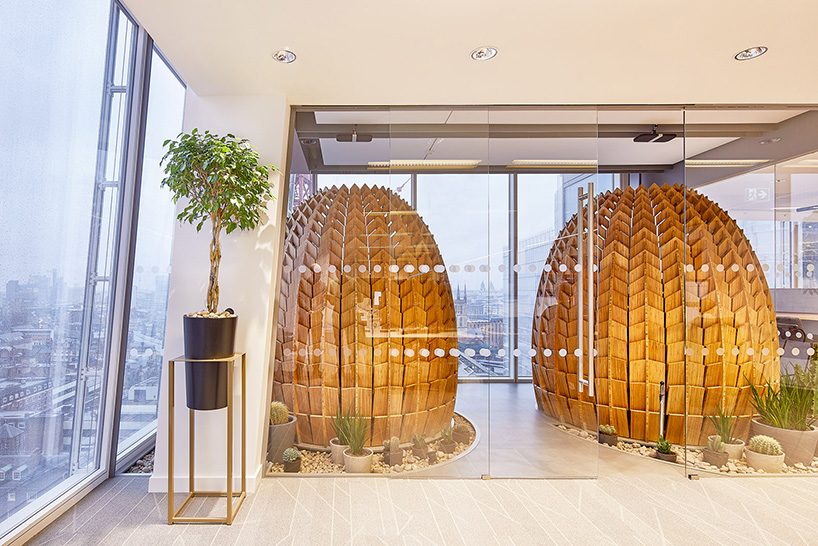 the pods provide a tech- free, meditative moment within the workday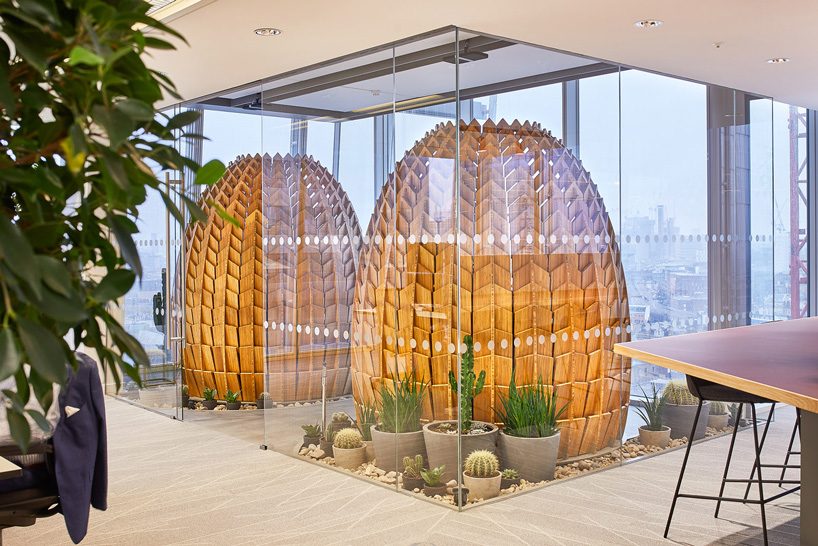 a a cactus garden surrounds the pods, creating a direct connection with living nature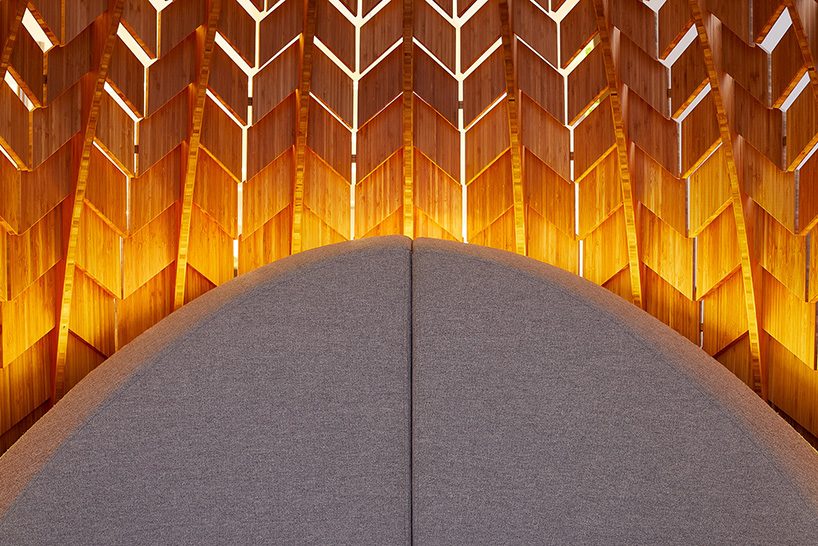 the structures bring together technology and biophilic design in a way that has a measurable impact on wellbeing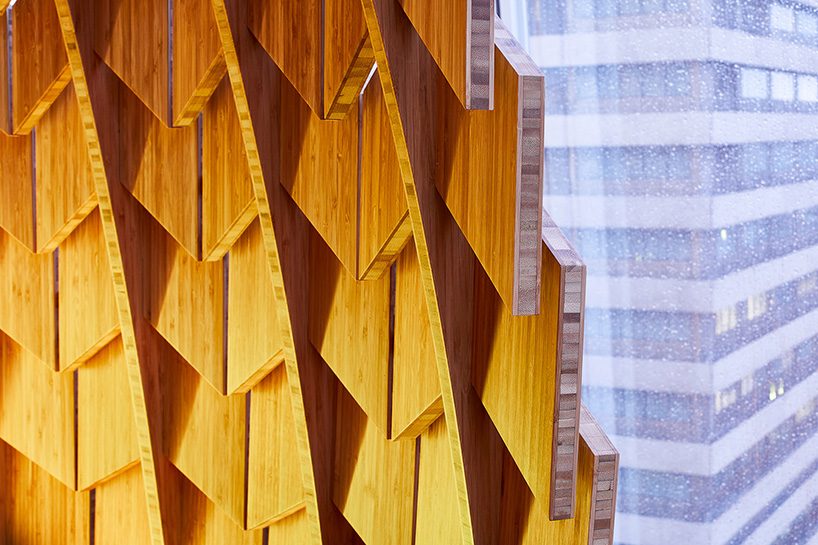 the regeneration pods provide a sense of shelter and refuge while also maintaining beautiful views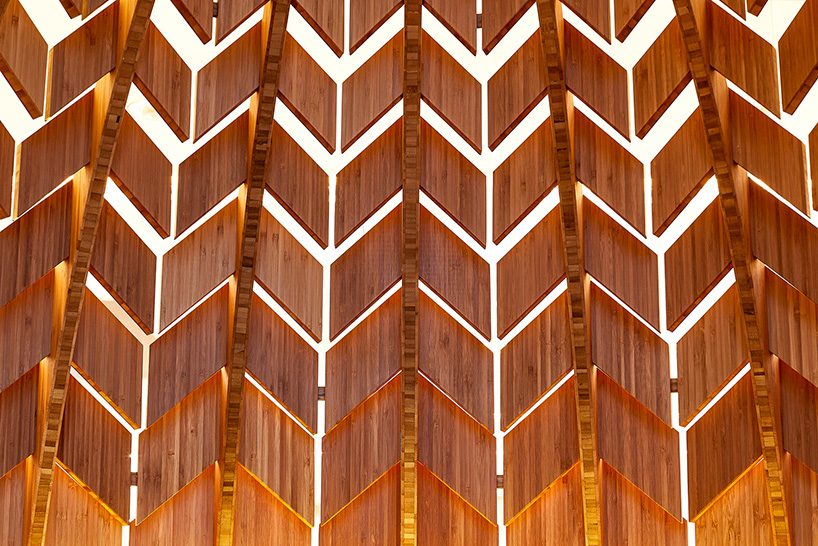 continuous ribs provide stability, while individual vanes create the overall enclosure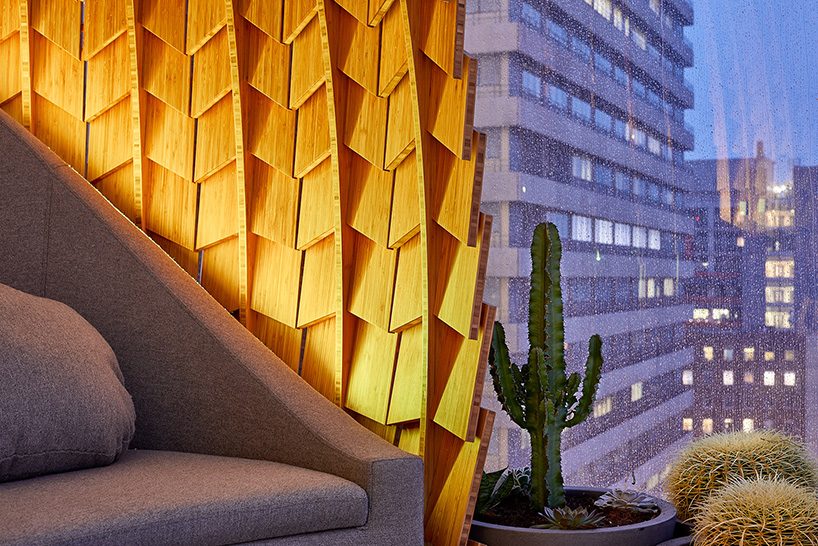 additional cushions allow one to sit as if on a bench, but also take off the shoes and sit in a lotus posture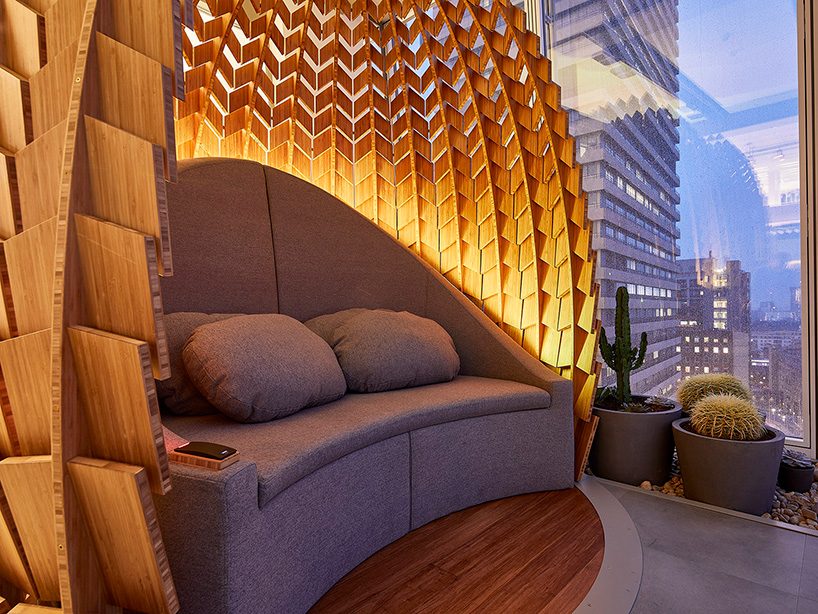 the complex forms were fabricated by master craftworkers at aldworth james and bond, who combined high-tech digital fabrication with traditional hand-finishing techniques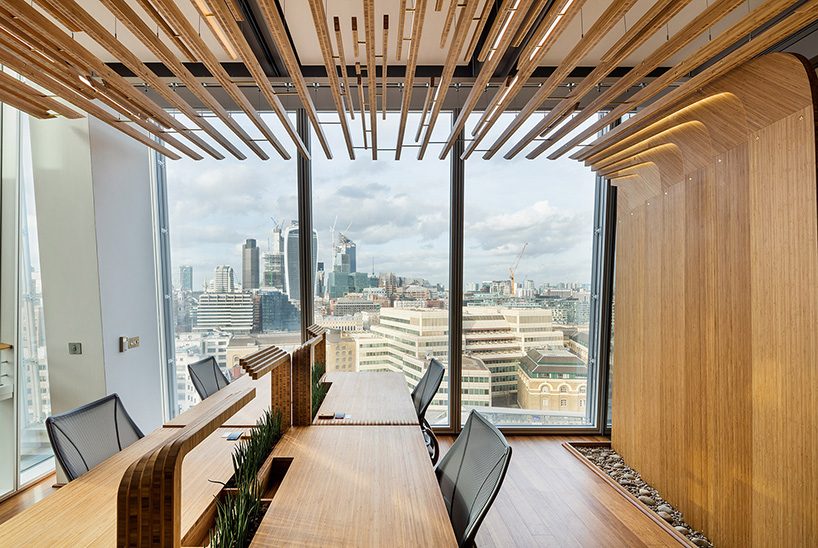 the desks are crafted from natural bamboo and incorporate living plants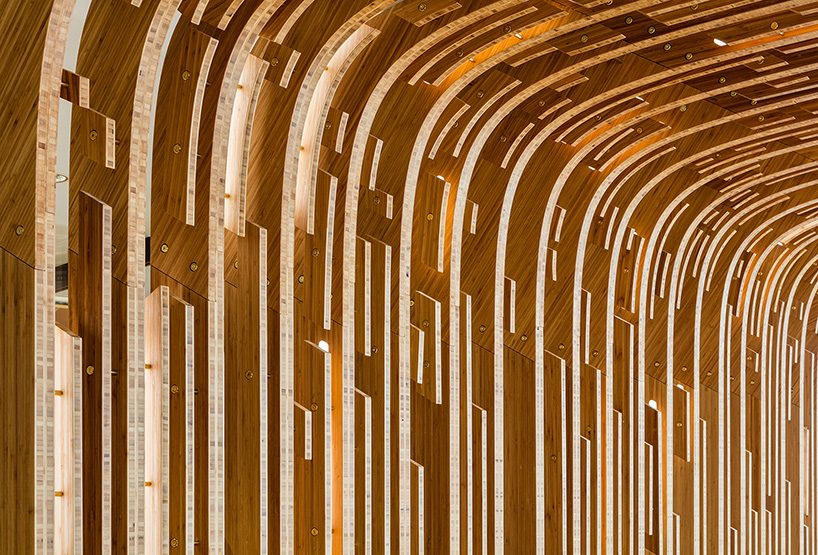 the living lab integrates technology and data with beautiful and human-oriented design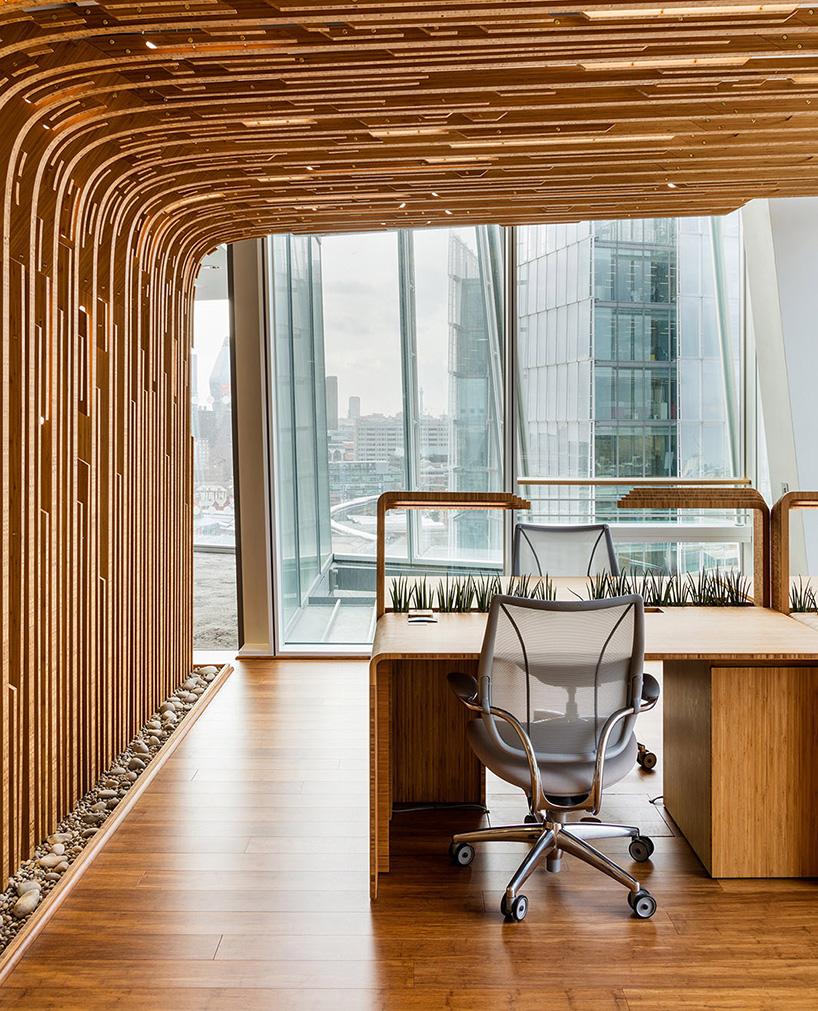 under-desk sensors record the time employees are actively working, collecting this data in mitie's data lake
project info:
program: meditation and mindfulness space
location: 11th floor, the shard, 32 london bridge st, london se1 9sg
design architect: daewha kang design
design team: daewha kang, chiara multari, weronika widenska
project lead: chiara multari (construction stage), weronika widenska (design stage)
general contractor: modus
specialist fabrication: aldworth james & bond
interaction design and AV: link media systems
client: mitie plc
academic collaborator: dr. marcella ucci, head of the msc in health, wellbeing and sustainable buildings at university college of london
sofia lekka angelopoulou I designboom
nov 04, 2018
The post daewha kang design's experimental workspace combines biophilic principles with technology appeared first on Architecture Admirers.